SUBWAY STUDENT SPOTLIGHT: CONNOR O'TOOLE, LA CUEVA
He's the most recruited high school athlete in the state of New Mexico this year.  His name is Connor O'Toole and most BCS schools around the country already know who he is.
O'Toole is being courted by more than a dozen schools: Arizona, Arkansas, Baylor, California, Colorado, Florida State, Indiana, Kansas State, LSU, Maryland, Nebraska, New Mexico, Northern Arizona, Purdue, San Diego State, Utah, Washington State, Wyoming and Yale.  His high school coach says O'Toole's work ethic is second to none.  "I always tell him you have to work like you're number two and he does that," said La Cueva head coach Brandon Back.  "He knows what it takes to get there.  He's going to be a guy that's watched."
O'Toole had been on the radar of colleges for his football skills.  He caught 43 passes and scored 8 touchdowns on La Cueva's state championships football squad, but recruiting exploded in the spring of 2019 with his eye-popping numbers on the track.  O'Toole posted a time of 10.78-seconds in the 100-meter dash.
"It's been crazy, it's all come pretty fast," said O'Toole about the increased recruiting. "My track times definitely helped me out quite a bit.  Then once I got the first couple (offers), especially my first power five offer from Baylor, then it all kind of blew up from there.  It all came pretty fast, but I blessed and very grateful."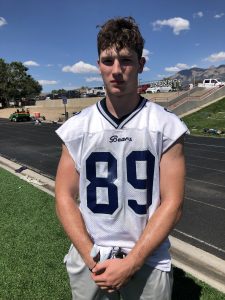 At the state track and field championships, O'Toole finished second in the 100m dash by .01 seconds.  Despite coming up short in the 100m event, he wasn't kept off the top of the podium at the state meet.  O'Toole won the 300-meter intermediate hurdles that same weekend.
O'Toole attended two camps this summer, Oklahoma and LSU, and also took some unofficial stops to Colorado, Utah, Arkansas, Baylor, TCU, Kansas State and Nebraska.  O'Toole says his college choice will come down to the best fit for academics along with the offensive style and playing time. "Academics is pretty big for me," he said.  "Also, the fit in the offense at the next level because some schools only want me to play tight end and some schools only want me to play receiver."
Back says it should be no surprise O'Toole has become such a wanted man.  "He's worked hard forever," said Back.  "I remember telling coaches when he was a freshman and sophomore that this kid is going to be the next biggest thing to come out of New Mexico. We knew what he could do early and you saw his work ethic and it just developed."
O'Toole caught a pair of touchdowns in week 2 against Valley High School.  He has three TD receptions on the season.