SUBWAY FEATURED STUDENT: MARIAH HUMPHREY, SILVER HIGH SCHOOL (AND OTHER TRACK STANDOUTS TO WATCH)
"I'm an adrenaline junkie." That's the way Silver High School student athlete Mariah Humphrey describes herself.
Humphrey has a chance to make her mark in the high school track record book this week.  Humphrey will enter the state meet as the top javelin thrower in the field.  Just last month, she set a new meet record at the Marilyn Sepulveda Meet of Champions with a throw of 144'3".  The Class 4A record at the state meet is 140'1" set by Jocelyn Fernandez of St. Michael's in 2017.  The overall state record for any class is 142' by Rio Rancho's Nicole Pendley in 2014.
"Our first goal is to win a state championship and to be able to break the record would be a bonus," said her coach Daniel Osuna.
Mariah first started throwing the javelin her sophomore year in high school.  The Silver City native grew up playing mostly softball.  One day she figured that if she can throw a ball, maybe she could throw the javelin.  "I realized it's so much different than throwing a ball," she joked. "There's all this technique that comes along with it."  She discovered her softball schedule also didn't work well with her rodeo calendar, so she decided to take up track each spring instead.  Mariah rides horses and competes in barrels and poles.  "It's the exhilaration you get," she said.  "I think the reason I like both track and rodeo is you get all these nerves that get you going and gives you that thrill!"
Mariah is undefeated in the javelin this season.  The last time she failed to finish first in that event was the summer of 2018 when she took fourth at the Great Southwest Track Meet competing against athletes from 22 other states.  Last May at the 2018 state meet, Mariah came into the weekend ranked second in the state and finished third.  "Honestly I think my nerves got to me," she recalls.  "I'm trying to push it hard this year."
Mariah recently committed to throw the javelin for New Mexico State University next year and study animal science.  "My mom was an Aggie and I've always had an interest in animals," she said.
She has a cumulative GPA of 3.9.  "She's a hard worker in whatever she does," says her coach.  "She's extremely coachable and has a no-nonsense attitude.  We didn't think 144' was reachable at first. I was a little surprised, but she's been very consistent.  The other girls will have to throw well to beat her."
Mariah describes herself as "pretty nerdy".  She loves to read.  "I'll read any type of novel, non-fiction or fiction, whatever I can get my hands on." The next book might be a record book with her name printed in it.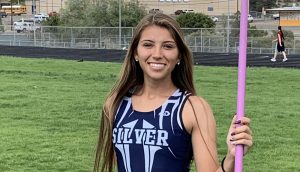 Here are some other athletes to watch at this week's 4A-5A State Track and Field Championships:
Class 4A
Girls
Jane Archibeck, Academy : 1600m, 3200m, 800m
Sterling Glenn, Academy : shot put, discus
Rebecca Green, Los Alamos : shot put*, discus*
Destiny Lawrence, Goddard : 100m*, 200m*, 400m*, long jump
Faith Powell, Taos : 200m, 400m, high jump*, long jump*, triple jump*
Boys
Teagun Glenn, Academy : shot, javelin*
Kashon Harrison, Kirtland Central : 1600m*, 3200m*, 800m
Zach Jaramillo, Academy : javelin
Lucas Jepsen, Academy : 400m, long jump*, triple jump*
Vince Quezada, Hope Christian : pole vault*
Kale Mauritsen, Artesia : 110m* & 300m hurdles*, pole vault*, 200m
Jonah Vigil, Taos : 100m*, 200m*, 400m*, long jump*
Class 5A
Girls
Kiara Quezada, Farmington : pole vault*
Israel Swanson, La Cueva : 100m hurdles*
Adriana Tatum, Sandia : 100m*, 200m*
Boys
Noah Fay, Rio Rancho : 110m* & 300m* hurdles
Connor O'Toole, La Cueva : 110m & 300m hurdles, 100m, 200m, long jump
Caezar Chavez, Deming : 100m*
*2018 State Champ in that event