ACADEMY 8TH GRADER MAKING A NAME FOR HERSELF
Her brother is one of the top throwers in the state and now as an 8thgrader Albuquerque Academy's Sterling Glenn is starting to make a name for herself.  Sterling won the discus event at this week's Marilyn Sepulveda Meet of Champions against some of the top throwers in the state.
"I like seeing your work pay off, so when you do drills continuously and then you see progress in the ring and how far it goes, that's always the most rewarding part," she said.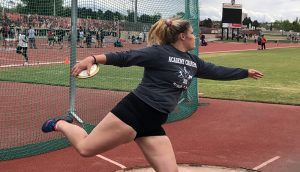 She's been throwing for the last 5 or 6 years and got into it after her older brother Teagun started.
"My brother started throwing," she explained.  "He started with jav and my parents found out he was really good at it and so it expanded into all the throws and my dad coached us from a really young age."
"We're very competitive, we push each other to be our best and to be the best people we can be," Sterling said.  "We throw different weights, so we can't compete in that way but we compete in drills and technique."
When it comes to technique, Sterling thinks throwing the shot is the most challenging.
"The technique is very tricky and it's a lot of small things that if you mess up it can impact the whole throw," she said.
At this pace, don't be surprised to see more than one Glenn on top of the podium.  Glenn and the Albuquerque Academy Chargers will host the Richard Harper Memorial Track Meet this Friday and Saturday.