TRADITIONAL DANCE POWERS LOOKING FOR MORE BLUE THIS WEEKEND
When it comes to the state spirit competition, there are a couple schools that keep getting called to pick up a blue trophy year after year in the dance competition.  Roswell, Valley and St. Michael's have all become must-see viewing during the two-day event.
Roswell is the seven-time defending state champ and winner in 12 of the last 14 years.  Valley is a six-time defending champ and has claimed a blue trophy in 11 of the last 12 seasons.  St. Michael's has produced an equally impressive 26 state titles over the past three decades.
"They feel the pressure, but they respond to the pressure," said Lydia Sanchez who heads up the St. Michael's Pony Express squad.  "I try to make them perform in as many competitions as they can during the year because it's about performing."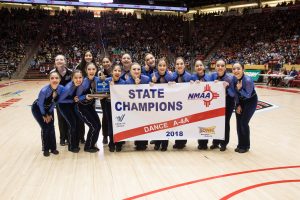 2nd year Valley Vikettes coach Matthew Torres has a similar belief.  "They definitely feel the pressure, but they put in the work and perform well under that pressure," he said.  "They know how to focus at state and how to maintain their reputation. When it comes to this time of year, they are really good about focusing."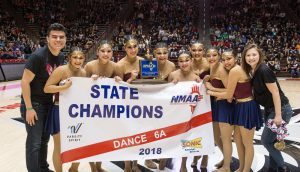 Roswell's Kim Castro has been leading the Charlie's Angels Dance Team for 19 years.  "Most of these kids don't know what it's like to not win," she said.  "People expect a lot out of us and we have to work harder to live up to the expectation."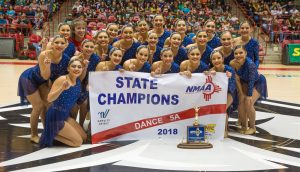 It will also be a classification shuffle for two of the powerhouses.  Valley is no longer in the state's largest classification and will compete in Class 4A. Roswell will compete in Class 5A along with the state's largest schools.  St. Michael's will remain in Class A-3A.
"The different class doesn't change our approach," explained Castro.  "We just up our difficulty level.  I tell the kids that if you want to know who your competition is just look in the mirror."
Some of the cheer and dance programs have longstanding traditions leading up to state, but you'd be hard pressed to find one more unique than what the Pony Express goes through every spring.  "The girls don't shave their legs for the whole month of March," said their veteran coach.  "Every year, a night or two before the state competition, the team then gets together and they have a leg shaving party."
Valley has a more simple tradition.  "Before every competition, they huddle in a circle and wave and say 'Vikettes Jam!'," said Torres.
No matter the tradition, the ultimate goal is to walk off the floor as state champs.  "At this time of year, I usually tell them not to forget why we started," said Castro.  "Their bodies are beat up, they're tired, but the reason they do this is to get the blue trophy."
The competition begins Friday at Dreamstyle Arena-The Pit.
ALBUQUERQUE, NM– The New Mexico Activities Association would like to highlight the following important information regarding the 2019 NMAA State Spirit Championships. The NMAA's third largest event will begin Friday, March 29 at 8:30 A.M.
Official Championship Name:
NMAA State Spirit Championships presented by Varsity Spirit
Tickets:
Adults (No Re-Entry): $10.00
Students/Seniors/Military (No Re-Entry): $5.00
DAY PASS (Re-Entry Allowed):  $15.00
Championship Location:
University of New Mexico, Dreamstyle Arena – The Pit (Albuquerque)
Championship Dates:
March 29-30, 2019
Live Video Stream:
Championships – www.nfhsnetwork.com
Championship Results:
Final results will be posted at www.nmact.org on the evening of March 30
Performance Schedule:
Full detailed schedule of performance times can be viewed on the NMAA website at the following link:  https://www.nmact.org/file/Spirit_Schedule_2019.pdf
Parking:
            The University of New Mexico will charge a $5 parking fee for all vehicles.
*For more information regarding this State Championship event, please contact Dusty Young, NMAA Associate Director, at (505) 977-5385.