HOPE'S IRONMAN APPROACHES MILESTONE MARK
Jim Murphy is in his 37thyear of coaching basketball.  "My first year was with the girls and now 36 years with the boys," said the Hope Christian head coach.  Friday night the Hall of Famer will attempt to pick up career win #800 when his Huskies are at Highland.
"You think of the number and it's amazing how many games you've gone through," Murphy reflected.  "It just seemed like yesterday when I started teaching and coaching.  You look back and Wow, that's a lot of games and a lot of bus rides."
Murphy turns 60 this year and feels healthy with no intention of calling it a career anytime soon. "When my parents turned 60, they seemed old and I still feel young and can relate to people, but it is a long time to be at one place," he said. Murphy doesn't remember win #1, but he can recall his first state championship.  "My very first year with the boys we went to the state tournament and lost to Pojoaque that year in the first round.  The next year we came back and were 27-1 and won the championship against Jal (in 1985)."
Murphy and the Huskies are going for a state record seventh consecutive state championship this season.  "I feel it," Murphy replied when asked about the pressure of repeating.  "We've raised the bar and we're driven to keep the bar up there, but you enjoy the journey.  I enjoy being in the gym with the kids in the summers."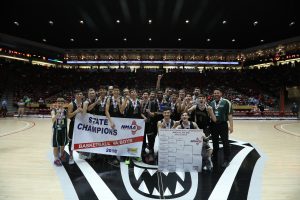 Murphy has 16 overall titles to his name and reached a victory mark only two other basketball coaches in New Mexico were able to attain, but one streak he is proud of is the fact he never missed a game.  "There was one time I was in a masters program and I had a class and I had to hustle up to Cuba.  We had a game in Cuba and my assistant coach started the game and I got there in the first quarter, but I didn't want to lose the streak of not missing a game."
His consecutive games streak spans more than 1,000 games and counting.  "My wife had an operation one time and I had someone else pick her up from the hospital because we had a game out in Rio Rancho and she still doesn't let me forget that," he joked.
Murphy looks at the 800-win plateau as a corporate effort.  "We win a lot of games because I've had some great players and a great coaching staff."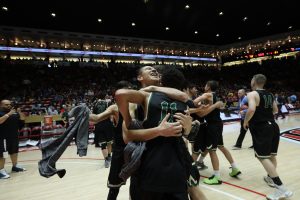 Murphy's father was a pastor and Jim thought he would follow those footsteps and become a youth pastor. He earned a bachelor's degree in Christian education.  "I needed a job and I was getting married and Hope said they needed a boys JV coach and a Bible teacher.  I thought that sounded good.  When I got here, they gave me the girls varsity job the first year. The next year I got the athletic director's job and became the boys head coach.  It was hard to leave that girls team that year.  I think we were 18-7 and a lot of the girls were coming back."
His raspy voice is now permanent after decades on the court.  "Fernando Ortega was one of our teachers here years ago and he said, 'You're like Dr. Jekyll and Mr. Hyde.  You're Mr. Nice Guy in the classroom and then you get on the court yelling and screaming.' I don't know if that was a compliment or not," Murphy joked.
When asked if the Jekyll and Hyde description was an accurate picture of him, Murphy responded with, "Probably in my early years.  I'm a lot calmer as I get older.  I think the competitiveness is still there."
799 wins and counting. The overall wins record in New Mexico is 1,122 wins by the legendary Ralph Tasker.  Does Murphy think he could ever reach that mark?  "I don't know if I can be around that long," he said.  "You'd have to average 20-25 wins a year for another 10-15 seasons.  I'm going to work for a while, but ultimately that's not the goal."
The next one on the schedule is at Highland High School Friday night.