CARPENTER IS BUILDING ANOTHER WINNER IN HOBBS
Joe Carpenter has only been in charge of the Hobbs High School girls basketball team for three years, but he has helped turned the program into a state championship contender once again.
"We inherited a 12-14 team and we didn't know what we were getting into," said Carpenter.  "Then we won our first 18 games here.  This year we're 25-2.  We're going to ride this thing out as much as we can."
What he didn't mention in that statement is that the Eagles are the defending state champs and one of the top teams in the state.  Their average margin of victory is over 29 points a game.  The only L's on their record are a 55-54 overtime loss to West Mesa back in mid-December and a recent 56-48 loss to Carlsbad, one which they avenged three days later.  Hobbs is a pressing team, much like last year's title squad.  The Eagles look really good heading into the postseason, but Carpenter describes his team as having an up and down year.
"We've gotten a lot of wins, but it's been tough at practice," he said.  "Sometimes when you win by a lot and starters only play two quarters, it's tough to gauge."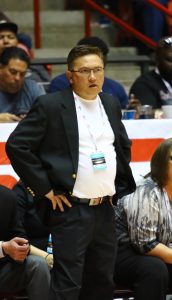 Carpenter took the job at Hobbs after several successful seasons at Roswell.  In 16 years with the Coyotes, he reached the Final Four 12 times. He says the athleticism of the Hobbs program was too enticing to pass up.  "We had some athletic teams in Roswell, but we've had 4 or 5 athletic kids every year since I've been here," he said.  "It's a lot easier to coach when you have really good athletes."
One of those standout athletes is an eighth grader.  Wisdom Anthony leads the team in scoring with over 13 points a game.  "She's a little longer than most people and has the physical makeup to play as an eighth grader," Carpenter described.  "She has quick hands.  She gets deflections on balls a lot.  She is deceptively quick and her instincts are amazing."
Senior Amiah Smith is one of the captains.  She averages over 12 points a game.
Does Carpenter think there is pressure to repeat?  "Yes, a lot," he quickly responded.  "The expectations, even in Hobbs, are high.  You get a lot of team's best games.  These kids have had to face that all year.  We try to be humble and keep it going and keep our mindset going."
Carpenter considers his team to be one in the mix to lift the blue trophy again this year, but he is quick to point to other contenders too.  "There's a lot of teams, if they're playing good at the right time, have a shot," he said.  Carpenter mentioned several teams.  "George Maya has Mayfield playing good right now.  Carlsbad is tough.  Up north, there's a bunch of teams like West Mesa, Piedra vista, and La Cueva, Farmington is in the mix."
It will all be decided in the coming weeks.