'SURPRISING' RAMS LED BY ANOTHER PATTERSON
The Rio Rancho boys basketball team enters this week's Albuquerque Metro Championships with a surprising 9-and-2 record.
"I didn't think we'd be 9-2, to be honest," said Rams head coach Wally Salata.  "At the beginning of the year we talked about their roles, we talked about team goals.  As soon as the team buys into those things, good things are going to happen."
The Rams have one of the state's leading scorers in David Patterson. He's 6'3" and averaging almost 25 points a game.
"I feel like I need to be a leader and lead the younger kids because we're pretty young," said Patterson.
David is the fourth Patterson to play for the Rams.  The most recent, Clay, helped Rio Rancho win their first state title.  "He was more of a 'pass it and get it back and shoot it'," David said about the comparison.  "I feel like I'm a little bit bigger and can go underneath and play the post a little bit and get my shots more."
"The difference between David and his other brothers is he's 6'4"," said Salata.  "When guards are guarding him, he can shoot over people. He can post them up inside.  There are some things he can do that the other two couldn't do.  The thing David has to understand is that he has to use his teammates and when he uses his teammates then things open up for him."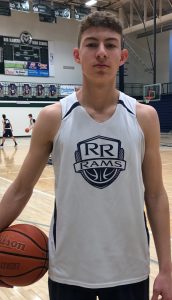 Patterson is a shooter, but can make things happen off the dribble.  He committed to play basketball at the Air Force Academy.
"I feel like I can be a leader over there, and not just in basketball, in the military," said Patterson.  "My grandfather was a veteran and he encouraged me to go there.  My cousin is also there and it really fit me well."
Rio Rancho won it all in 2016.  David Patterson was a freshman on that squad and now he comes into his senior season with a different role.  "That year I was really young and I tried to do what they did, how they connected with the team and their chemistry was amazing.  I try to bring that to our team.  I've grown up with this program and having been in that situation already in the Pit and that feeling you get and I just want to feel that again."
"David Patterson and Blaine Gallegos are our two main guys, everybody knows that," explained Salata. "We have to have guys like Isaiah Chavez, Junior Hodnett, Cash Carrasco, Owen Olney, they need to come off the bench and we need production from everybody."
The Rams are a 5 seed in the Metro bracket and take on Highland High School Tuesday evening.  They will face either Sandia or Atrisco Heritage on Wednesday.
Here are the first-round matchups for the Albuquerque Metro Boys Basketball Championships
#1 Cleveland vs #16 Cibola
#8 Manzano vs #9 La Cueva
#5 Rio Rancho vs #12 Highland
#4 Atrisco Heritage vs #13 Sandia
#3 Eldorado vs # 14 Albuquerque
#6 Hope Christian vs #11 Valley
#7 Del Norte vs # 10 West Mesa
#2 Volcano Vista vs #15 Rio Grande