SATERFIELD BACK FOR MORE IN THE LAND OF ENCHANTMENT
He's 6'4", 185 pounds, a senior and this is his second go-round at basketball in the Land of Enchantment.  His name is Jorell Saterfield and he's one of the top high school basketball talents in New Mexico this year.
"He kind of does it all for me," said Mayfield head coach Billy Keys.  "The biggest thing is his stamina.  Since the summer, he's getting used to the altitude. He is starting to see the game more and that's going to help him when he gets to the next level."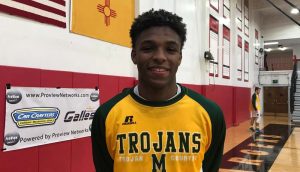 Saterfield already committed to play at Southern Miss.  "The coach flew all the way from Mississippi to see me in Las Cruces," said Saterfield about his college choice. "You don't get that everywhere."
If the name sounds familiar, it should.  Jorell is the younger brother of Joe Saterfield who helped Centennial win a basketball title in 2015.  His family moved away to Kentucky and then to Seattle, only to return to Las Cruces.  "I lived here before and wanted to have fun my last year in high school," explained the senior.
The shooting guard made his impact known early in the season.  Satterfield poured in 50 points in a 74-62 win over Hobbs last month.  "What I remember from that game is that it was like being in a lot of wide open spaces," he recalled.  "I took advantage of the space they gave me and made the most of it. I scored a lot of transition points. The only way to stay with Hobbs is to run with them."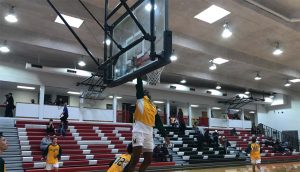 Saterfield finished with 22 points in a loss to Manzano on Thursday afternoon at the Joe Armijo Classic. The Trojans will play Albuquerque Academy Friday morning.
According to Keys, a former New Mexico State guard, Saterfield is "athletic, runs the floor well in transition, is tough to guard and a capable three-point shooter."
The senior also has high aspirations for his final year of high school basketball.  "We want to win a state championship and I would like to win player of the year," said Saterfield.
He's on pace for top honors just one month into the season.