SUNNY OUTLOOK FOR THE STORM WHEN IT COMES TO BOYS SOCCER
The Cleveland High School football team has gotten a lot of attention this season, but the boys soccer team at the school is also having a great year. In fact, it's their best year ever.
"It's been a good year, we've done the best we've ever done here at Cleveland," said senior Jairo Barreras. "We're 17-3 and we're killing it so hopefully we can get through to the state final."
The Cleveland boys earned the number one seed in Class 5A.  Shaun Gill has been the only head coach they've had at the school and the program's success has been building each year.
"The last 5 years we've been consistently getting better and better," explained Gill.  "We went the 12 seed, the 7 seed, the 4 seed last year, the 1 seed this year."
"This is our ultimate goal, we've been pushing for this, especially these past three years," said senior goalie Ryan Watson.  "Every year we say we can go further and further and now we believe this is our year."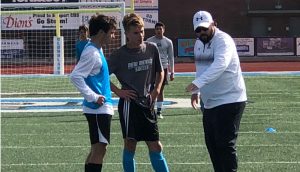 Earning the number one seed is on honor, but it also comes with a little added pressure to perform.
"It's an honor, but it's also kind of nerve racking that everybody's gunning for us," said Gill. "It's ours to lose and I think the boys know it and we're trying to get ready for it."
"It's kind of intimidating because we have a target on our back now, but it's nice to think we're a level above everyone else and if we play the way we're supposed to then we can win state," said Watson.
Defensively, they haven't given up more than two goals in a match all season and have recorded five shutouts.
"We have a really strong defense," said Watson. "We have, in my opinion, the best center-back in the state and we have a really experienced back line and it sets the stage for the rest of the team.  We stay solid and win the ball back for the offense to do their work."
Offensively they have one of the top scorers in the state.  Junior Gabe Legendre has 28 goals on the year.
"He's a true striker, he's hustles all over, even in training, he hustles," described Gill. "He's a quality kid, he's great to be around, good attitude all the time.  He has a nose for the goal.  You get the ball to his feet anywhere in the attacking third and he's going to go and he's going to score."
A high-powered offense combined with a stingy defense could result in a deep run by the Storm.
"One of our mantras this year has been 'not too excited and don't get down on yourself too much, just stay even keel and stay the course and get to that final game'," said Gill.  "That's kind of what we've been doing and the boys have bought in and they're excited to be #1, but they're also saying 'alright, we're ready, let's play.'"
Ready or not, here it comes. Cleveland will play Wednesday afternoon at 3:30 against Atrisco Heritage.