PLAYOFF FOOTBALL PREVIEWS
November 16-17, 2018
Class 6A Quarterfinals
(8)Manzano at (1)Cleveland Friday 7pm
The Monarchs advanced to the quarterfinals after beating Rio Rancho 40-14.  Now the defending state champs face their toughest test of the season as they take on the top ranked Storm.  Cleveland is without star running back Dorian Lewis who suffered a season-ending knee injury a couple weeks ago.  Cleveland has scored 35 points or more in every game this season.  "These are two of the hottest teams in the state, in my opinion," said Cleveland head coach Heath Ridenour.  "Manzano is peaking at the right time.  I believe their defense is one of the best in the state, if not the best," he added.  "We are playing good football right now, too.  I feel like we are very diverse offensively," said Ridenour.
Manzano head coach Phillip Martinez had similar praise for the Storm.  "Cleveland is a big, physical and athletic team," he said.  "We must play with great execution.  We are looking forward to the opportunity. There is nothing better than a November Friday night playoff game in the cold under the lights!"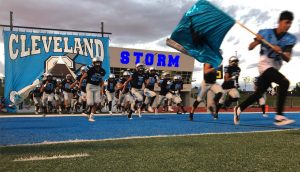 (12)Cibola vs (4)Volcano Vista (Community Stadium) Friday 7pm
This game is a rematch of their final game of the regular season when the Hawks handed the Cougars a 35-21 defeat.  Cibola will have to find a way to slow down Volcano Vista's high scoring offense. "My biggest concern is playing under control against a rival school," said Volcano Vista head coach Chad Wallin.
"Our main focus this week will be on the process leading up to the game," explained Cibola head coach Rod Williams.  "In the first matchup, we were very short game oriented.  Defensively we have to do our best to handle their speed."
(11)Eldorado at (3)Centennial (Field of Dreams) Friday 7pm
Quarterback Gabe Smith returned for the Eagles last week but reinjured his broken collarbone against Hobbs and is out for the remainder of the season.  The Hawks haven't lost a game all year and have only given up 14 points in the last four weeks.  "Centennial is 10-0 for a reason," said Eldorado head coach Charlie Dotson. "They have a good quarterback, play solid defense and are innovative on special teams.  One of my big concerns is traveling back-to-back weekends and trying to stop the running and passing abilities of Frost."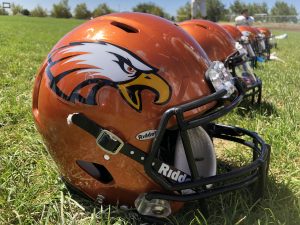 (7)Las Cruces at (2)La Cueva (Wilson Stadium) Friday 7pm
The Bulldawgs are making their second trip to Albuquerque to face La Cueva this season.  The Bears beat Las Cruces back in early September, 45-3. "Las Cruces is a very well coached team with some of the toughest kids in the state," said La Cueva head coach Brandon Back.  "Our biggest concern is the number of playmakers they have.  This team has been in big games before and has a strong tradition of postseason play.  It will take a mistake free game and a lot of effort in order for us to come out on top."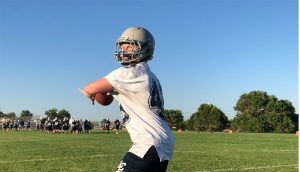 Class 5A Quarterfinals
(8)Valley at (1)Roswell (Wool Bowl) Friday 7pm
The Coyotes earned the top seed after beating Goddard in the final game of the regular season.  The Vikings made their return to the postseason last week beating Santa Teresa, 28-12.
"It was good for the program and it's great for the school to get a playoff win," said Valley head coach Judge Chavez.  The veteran coach has respect for his next opponent.  "There's a reason why they're number one, they are a really good football team.  We will have to stop the run.  It will be a challenge for us, but a great experience to go on the road and play in front of a big crowd.  I'd rather have that than putting our stuff away."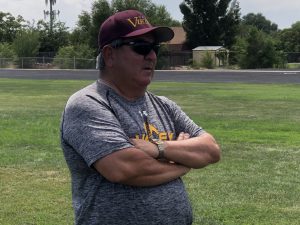 (5)Piedra Vista at (4)Artesia Saturday 1pm
The Panthers put up 55 points in a win against Del Norte last week while Artesia sat and watched after earning a first-round bye.  Piedra Vista faced a tough non-district schedule against teams like Los Lunas, St. Pius X, Belen and Roswell.  "Piedra Vista is big and physical," said Artesia head coach Rex Henderson.  "They run the ball extremely well and defensively they do a good job of taking away the big play."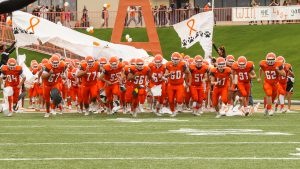 (6)Belen at (3)Los Lunas Saturday 1pm
These two rivals are very familiar with each other.  The Tigers beat Belen for the district title on the last game of the regular season, 35-13. This will be their second meeting in three weeks.  Belen advanced to the quarterfinals by taking down Valencia 41-21 in the first round.
"Belen is a good football team that gives us matchup problems across the board," said Los Lunas head coach Jeremy Maupin.  "They have speed, size and strength.  I think it's always difficult to play the same team twice in a three-week span.  We cannot show up with the same game plan and expect the same results."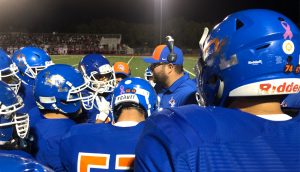 (7)Deming at (2)Goddard (Wool Bowl) Saturday 3pm
The Rockets lost their final game of the regular season and had a first-round bye to regroup.  Goddard beat Deming once already this season, 28-16. The Wildcats eliminated Farmington from the postseason last week, 38-28.  "Deming is a tough matchup for anyone," said Goddard head coach Chris White.  "We will have to execute well and play very disciplined football."
Class 4A Quarterfinals
(9)Aztec at (1)St.Pius X (Nusenda Community Stadium ) Saturday 1pm
The only 4A school the top ranked Sartans lost to this year was Aztec in a 28-24 ballgame.  The Sartans have won five straight since that setback and have only given up 9 points during that span.  The Tigers beat Ruidoso 40-19 in the opening round.
(5)Bloomfield at (4)Kirtland Central Friday 7pm
After losing their first three games of the year, Kirtland Central has reeled off seven straight wins. The Broncos are playing some of their best ball in years.  Kirtland Central beat Bloomfield a few weeks ago, 26-14.  Both teams have similar styles on offense and defense.  The Bobcats are coming off a 26-12 win over Moriarty last week.
(6)Lovington at (3)Taos Saturday 1pm
The Wildcats pitched a shutout last week beating Bernalillo 41-0.  "Their quarterback presents a load of concerns because of how mobile he is," said Taos head coach Art Abreu.  "Their spread offense can give us fits if we play their game and not ours."
"Getting the opportunity to play one of the elite programs in the great state of New Mexico at that awesome venue is a blessing," Lovington coach Anthony Gonzales posted on social media.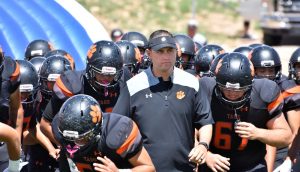 (7)Grants at (2)Portales (ENMU) Saturday 1pm
The Rams are coming off a bye and Grants got by Silver last week 14-7.  The Pirates have used multiple quarterbacks this season.  "I believe we are 2 similar teams that match up in both size and speed," said Portales head coach Jaime Ramirez.  "We both run the spread offensively and defensively we run a 3-3 and they run a 4-2-5.  Defensively they are extremely aggressive and tough."  Portales won it all in 2016.
Class 3A Quarterfinals
(9)Tularosa at (1)Hope Christian (Milne Stadium) Friday 7pm
A little rust might be a factor for the top ranked Huskies.  Hope hasn't played a full four quarter game in over a month.  The 10-0 Huskies have only given up 26 points all season, and 21 of those were in one game.  Tularosa advanced to the quarterfinals after edging out Zuni 22-20 last week.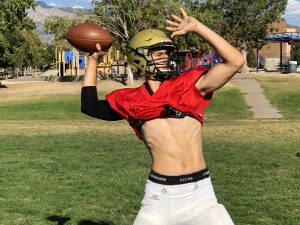 (5)Robertson at (4)St.Michael's Saturday 1pm
These two teams met just a couple weeks ago when the Horsemen easily handled the Cardinals 39-7. "We match up well with them," said St. Michael's head coach Joey Fernandez.  "We are always concerned about their running game."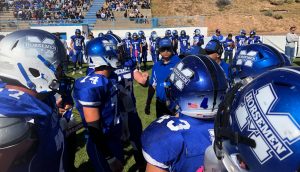 (6)West Las Vegas at (3)Socorro Friday 7pm
This will be the first meeting between the two this season.  "I think we match up well with them," said Socorro head coach Damien O'Campo. "They're very good on offense and make you defend the field.  Usually whoever makes the most mistakes loses these types of games."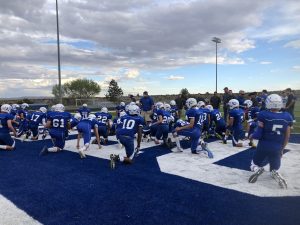 (7)Hatch Valley at (2)Dexter Saturday 1pm
The Demons beat the Bears once already this season 35-6.  Dexter is coming off a first-round bye while Hatch Valley beat NMMI in the opening round 44-21.
Class 2A Semifinals
(4)Estancia at (1)Eunice Saturday 2pm
The Cardinals have dominated their first year in class 2A.  Eunice won the 3A crown last season and hasn't lost a game since falling short in the 2016 championship.  The Cardinals are currently riding a 23-game win streak.  These two met in week two with Eunice picking up the 33-12 victory. This will be the seventh meeting between the two teams in the last four years and the third straight semifinal matchup. "We match up well with them," said Eunice had coach Ken Stevens.  "A concern is their ability on offense to both maintain possession and grind out drives along with big play potential."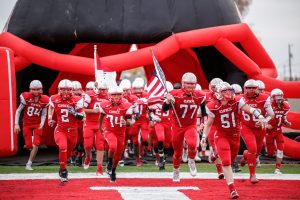 (3)Ft.Sumner/House at (2)Santa Rosa Friday 7pm
These two teams squared off a couple weeks ago with the Lions winning a road game 22-7.  This rematch is for a trip to the title game. Fort Sumner/House claimed the 2A title last season. Santa Rosa hasn't won a state championship since 2012.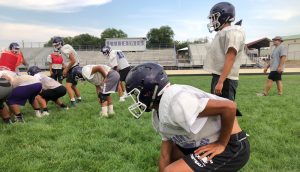 8-man Semifinals
(5)Melrose at (1)Gateway Christian Friday 7pm
Top ranked Gateway Christian has one blemish on their record this year, a 38-36 loss to Melrose on October 19th.  The Warriors have an opportunity to even the score with a trip to the championship on the line.  Melrose is still on track for a fifth straight state title.  The last team other than Melrose to win an 8-man football championship was Gateway Christian in 2013.  These two squared off for the 8-man title back in 2016.
(3)Mountainair at (2)Tatum Friday 6pm
Mountainair lost in the 8-man final last season and they are looking for a return trip to the title game. Tatum is Mountainair's only loss this year.  Tatum took it to them in week two, 57-16.  The Coyotes are 8-2 with their only two setbacks coming against Gateway Christian.