KICKING FOR A CAUSE IN ALAMOGORDO
Kicking field goals and scoring points means more to the Alamogordo community than just wins and losses. It means making a difference.
The Alamogordo football team has been committed to raising awareness and funds for children's cancer research by asking for donations/pledges for every point kicked this season.
The idea started a couple years ago.  Alamogordo's Brett Money went to a kicking camp the summer before his freshman season and found out about a program called Kick-It-For-Cancer.  The cause hit close to home for Brett.  "My Grammy is a 5-year breast cancer survivor, and I had a cousin that passed away last year with cancer," said Money.  "This was a way I could do something to help find a cure for this terrible disease."  Since discovering the Kick-it campaign, his school started raising money for the organization.  Each year they dedicated their season to a different young person in Alamogordo. This season that person is a seven-year-old girl named Bella Ochoa.
Back in April, Bella was diagnosed with Ewing sarcoma on her left hip.  It is a rare form of cancer.  Bella had to undergo radiation treatment in Arizona and is currently receiving chemotherapy in El Paso for the next 5-6 months.
"We have raised over $250 and I know of at least 2 more sponsors that will bump up the total closer to $500 before Friday's game," said Money.  "Bella is an amazing little girl.  She is the little sister of one of my soccer teammates."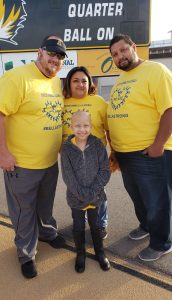 Bella was a guest at football practice Thursday night so the team could meet her.  The guest of honor was greeted by the team wearing #BellaStrong t-shirts.  "I know she touched everyone in that room," said Brett.  The team will also be wearing #BellaStrong helmet decals for Friday's game against Artesia.  Bella and her family will be guests at the game and get to walk through the tunnel as the team comes onto the field.  She will also be presented with a signed game ball.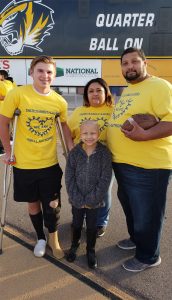 "Bella encouraged us every day this season and we will fight hard in her honor," said Money.  "I am hoping that people are more aware of how terrible this disease is and that we can all do something to help find a cure."
If you would like to help out their cause, go to https://www.alexslemonade.org/mypage/1497490