The
NMAA
, a member-led organization, provides leadership in interscholastic athletics & activities, promoting equitable participation and character development.
Scholarship Opportunities
NMAA Scholarships are awarded to students from NMAA member schools who, through the application/nomination process, demonstrate sportsmanship and academic achievement in the classroom. The deadline to submit applications is Monday, February 2, 2015. For more information please contact Gene at 505-923-3272. Click here for information regarding NMAA Scholarships.
---
Student-Athlete Spotlight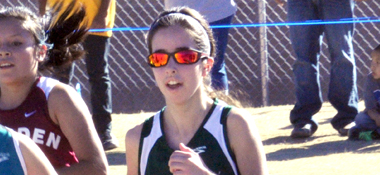 Running and mathematics are two activities that many people stay as far away from as possible. Mayfield High School senior Sophia Sanchez-Maes can't imagine her life without them. Read more...
Be sure to read about all of our featured students on the Student Spotlight page, presented by the New Mexico Oil & Gas Association

.
Tournament passes for the 2015 U.S. Bank State Basketball Championships are now on sale. Passes may be purchased at the NMAA Office (6600 Palomas NE, Albuquerque) or over the phone at 505-923-3110 or 888-820-6622.
The cost per pass is $125, which includes a reserved seat at Wise Pies Arena (aka "The Pit") and a commemorative event program. Additionally, pass holders are entitled to entry into all State Basketball games at all tournament sites, including the first round of state beginning on March 6th.
---
Championships on NFHS Network
All NMAA State Championship finals are broadcast on the NFHS Network. A complete listing of broadcast events/times is available by clicking here.
---
Participating on a non-school team in the same sport during the school season is discouraged. If a Student is allowed by the local school district to participate in this manner, the school's sub-varsity/varsity event limit may not be exceeded cumulatively. NMAA bylaw 7.3.1.
Compete with Class

Conference Hotel