The
NMAA
, a member-led organization, provides leadership in interscholastic athletics & activities, promoting equitable participation and character development.
Score Board
10th Annual NMAA Foundation Golf Classic
The 10th Annual NMAA Foundation Golf Classic presented by Gardenswartz Team Sales is Monday, June 6th, 2016 at the Canyon Club at Four Hills in Albuquerque. Teams are $500 or $125 for an individual. Hole and team sponsors are still available. Entry fee includes green fees and cart, range balls, breakfast and lunch, player gifts, raffle/silent auction and prizes for both the a.m. and p.m. flights. For more information click here or contact Carolyn Folkman at nmaafoundation@gmail.com.
---
Student Spotlight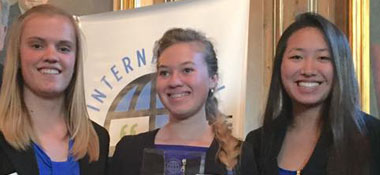 East Mountain High School students, Emma Hotz, Jessie Linder and Gina Sanchez, spent the weekend of April 1-3 competing in the final rounds of the International Public Policy Forum. Their performance resulted in a final ranking of 5th place in the world. Read more...
Be sure to read about all of our featured students on the Student Spotlight page.
Bylaws Corner
Summer programs are under the direction of the local school/school district. The NMAA does not govern coaching activities during the summer, other than undue influence and guidelines established in 7.5.3. NMAA bylaw 7.5.1
---
Student-Athlete Tip of the Week
The end of the school year is fast approaching. It's no time to slow down and relax. In fact, it's probably the most important time for the student-athlete. Why?
It's the final push to your academic year. With summer close by, it is tempting to look ahead and forget how crucial your final exams and final grade point average become. It should be your main area of concentration.
So make it a point to finish these last few weeks with the same enthusiasm you started the school year with. Put a big emphasis on your final exams and your year-end grade point average! Summer will be there waiting.
---
eKnowledge Free SAT/ACT Prep
The NFHS and the New Mexico Activities Association support the SAT/ACT Donation Project to assist students, athletes and families with college entrance exam preparation. The SAT/ACT Donation Project has already helped over a quarter MILLION students. For more information click here.
Conference Hotel