The
NMAA
, a member-led organization, provides leadership in interscholastic athletics & activities, promoting equitable participation and character development.
Score Board
Summer activities are under the guidance of the local school/school district. Summer camps, recreation programs, and other programs which are outside the conventional school year are restricted to the period between the end of the second (spring) semester and the beginning of the first (fall) semester of the following school year, or until the official practice season for that sport begins (as stated in the NMAA handbook for each sport), whichever comes first. Bylaw 7.5
---
Student Spotlight presented by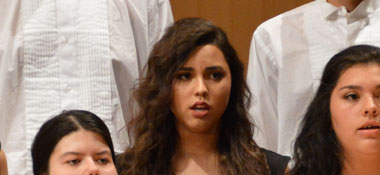 "Tesa Martinez, a senior at Capitan High School, sings because she loves it. She sings because it makes her feel good and hopes that one day she can bring that feeling to others as a music teacher. Martinez has been involved with the music program at Capitan since she was a seventh grader and the 2017 State Choir Contest was her twelfth and final competition of her high school career. She said that music has been a positive influence on her life. Read more...
Be sure to read about all of our featured students on the Student Spotlight page, presented by Subway.
STATE MUSIC EVENTS
April is the month for all NMAA State Music Competitions. The State Music events will conclude with Concert Band Friday and Saturday, April 21-22 (Cleveland HS). Please come out and support all of our talented music students!
---
AD's Tip of the Week
NMAA Sports Specific Committees. Every NMAA sport is supported by a committee that is selected by the NM High School Coaches, AD's and Officials Association. These committees meet to consider potential rules changes in each sport and recommend changes to the Executive Director and NMAA Commission. A committee listing is located on each NMAA Athletic Page on the NMAA web site. If you would like to have a rule change considered please contact your classification representative on the sports specific committee
---
CHAMPIONSHIPS ON NFHS NETWORK
All NMAA State Championship finals are broadcast on the NFHS Network. A complete listing of broadcast events/times is available by clicking here.
For all questions related to NFHS Network support, please contact help.nfhsnetwork.com or 877-978-2311. Customer representatives are standing by at all times to respond to issues and get fans set-up to view their events as quickly as possible. Additionally, they can answer questions regarding difficulty viewing, inability to find a specific event link, technical issues within a broadcast, trouble subscribing, billing questions, etc..
Conference Hotel