The
NMAA
, a member-led organization, provides leadership in interscholastic athletics & activities, promoting equitable participation and character development.
ONLINE RULES CLINICS
Due to the severe weather and the number of school closings, online rules clinics for Spring sports will remain available through Wednesday, March 4th. Schools are reminded that the head coach of each Spring sport team must attend a rules clinic.
---
Project Heart Start Deadline
The deadline for registration/payment for the April Regional Project Heart Start trainings for NMAA coaches is Monday, March 2nd. Complete information about this low cost CPR/AED training is available here.
---
Student-Athlete Spotlight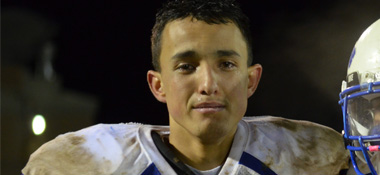 At only 5'10", senior Antonio Gallegos stands above every one of his Questa basketball teammates. Despite being the tallest player for the Wildcats, Gallegos has faced and continues to face some much taller challenges off the court. Read more...
Be sure to read about all of our featured students on the Student Spotlight page, presented by the New Mexico Oil & Gas Association

.
---

Basketball Selection / Seeding
UPDATED 2/28 @ 10AM: Due to inclement weather across the state, several District Tournament contests have been postponed and will not be played until next week. Brackets for the State Tournament will now be released based on the conclusion of the District Tournament. No brackets will be released on Sunday. The tentative schedule by class is as follows:
Tuesday March 3 (approx 9am): 2A Girls, 3A Girls, 4A Girls, 5A Girls, 5A Boys
Tuesday March 3 (approx 11pm) - A Girls, A Boys, 2A Boys, 3A Boys, 4A Boys, 6A Girls, 6A Boys
---
Championships on NFHS Network
All NMAA State Championship finals are broadcast on the NFHS Network. A complete listing of broadcast events/times is available by clicking here.
---
NFHS Network Support
For all questions related to NFHS Network support, please contact help.nfhsnetwork.com or 877-978-2311. Customer representatives are standing by at all times to respond to issues and get fans set-up to view their events as quickly as possible. Additionally, they can answer questions regarding difficulty viewing, inability to find a specific event link, technical issues within a broadcast, trouble subscribing, billing questions, etc..
---
A Student must be enrolled in at least 51% of the member school's regular class schedule in courses that will be counted towards his/her graduation and in regular attendance during the current as well as the previous grading period. NMAA bylaw 6.2.1.A
Compete with Class

Conference Hotel