The
NMAA
, a member-led organization, provides leadership in interscholastic athletics & activities, promoting equitable participation and character development.
High School Activities Month
October is National High School Activities Month. It is a time to celebrate the contributions and benefits young people experience by participation in sports and activities. NMAA member high schools are encouraged to promote the values inherent in interscholastic athletics and activities.
Each week during October will have a different focus. October 1-11 is National Sportsmanship and Fan Appreciation Week. It is a week to encourage awareness and discussion about the importance of sportsmanship, ethics and integrity to the conduct of interscholastic programs, and a time to thank the spectators who support those programs throughout the year.
---
Student-Athlete Spotlight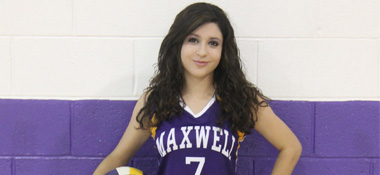 One moment in a person's life can alter his or her direction. For Leiandra Lucero, that's exactly what happened on February 14, 2010. Around 9:00 pm that evening, Lucero and her parents, Justin and Melissa Cruz, were coming home from watching The Book of Eli at the local movie theater when they were t-boned by a drunk driver while turning at a stop light. Read more...
Be sure to read about all of our featured students on the Student Spotlight page.
---
MaxPreps Support
For all questions related to posting rosters, schedules, results, and team photos on your MaxPreps pages, contact Gerry Valerio (gerry.valerio@cbsinteractive.com) or MaxPreps support at 1-800-329-7324, ext. 1 (or via email at coachsupport@maxpreps.com).
Now in its 5th year, the Life of an Athlete program was implemented by the NMAA to combat underage drinking by New Mexico students. In the fall of 2013 the NMAA, with the support of the New Mexico Department of Transportation, launched the second version of Life of an Athlete. The new version is more encompassing of all drug use and includes a look at some New Mexico athletes and how alcohol and drug abuse negatively affected their lives and athletic careers. The renovation also includes a middle school program aimed at earlier prevention and geared toward our younger athletes.
---
2014 College Fair at The Pit
A free event for high school students and their families to learn about college will take place Sunday, October 5th from 11:30 am until 3:00 pm at The Pit (UNM Arena) in Albuquerque. A version of the information flyer in English is available here and the Spanish version is available by clicking here.
---
NMAA Executive Director Sally Marquez will attend eight Cooperative Educational Services Regional Meetings this fall. The NMAA encourages all Athletic Directors to attend a session in their area. This will be an opportunity for Athletic Directors to have an open forum type session with the NMAA Executive Director on issues and topics of interest to them.
Remaining meetings are as follows:
- October 2 - Alamogordo
- October 7 - Gadsden
- October 16 - Lovington
| | |
| --- | --- |
| | Oct 1 |
| | Hall of Fame Nominations Due |



Compete with Class

Conference Hotel