The
NMAA
, a member-led organization, provides leadership in interscholastic athletics & activities, promoting equitable participation and character development.
Score Board
FOOTBALL ONLINE TICKET SALES
Tickets are on sale now at TicketLeap.com for all Championship Football games taking place Saturday, December 5th. Please remember that cash is the only form of payment accepted at State Playoff event sites.
---
Student Spotlight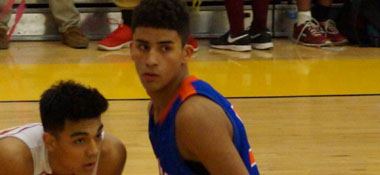 Kayden Walker, a junior at Los Lunas High School lives, dreams and breathes basketball. If you ever have a chance to sit down and speak with him you better be ready to talk hoops because it's always on his mind. Read more...
Be sure to read about all of our featured students on the Student Spotlight page.
---
NMAA STUDENT LEADERSHIP ADVISORY COUNCIL NOMINATIONS
The New Mexico Activities Association is forming a Student Leadership Advisory Council. The NMAA's SLAC gives high school students a hands-on experience with the Association and provides them a direct line of communication to the staff. Any NMAA member school administrator may nominate a current freshman, sophomore or junior male and female to be a member of the NMAA Student Leadership Advisory Council. Click here to nominate.
STUDENT-ATHLETE TIP OF THE WEEK
What's your mental approach when you are in a slump or having trouble getting playing time? Do you sulk? Do you feel sorry for yourself? Do you blame the coach or take accountability? How do you react in game time situations, especially in rival games?
Gary Danielson, color commentator for CBS and former college (Purdue) and professional quarterback, said something during a recent broadcast that makes plenty of sense. "In the biggest games, it's the littlest things that make all the difference."
Sometimes when we look at the big picture, we forget about all the little things that can lead to success. Pay attention to those little things along the way to lift yourself up when it really counts!
- Brought to you by the NFHS
---
For all questions related to NFHS Network support, please contact help.nfhsnetwork.com or 877-978-2311. Customer representatives are standing by at all times to respond to issues and get fans set-up to view their events as quickly as possible. Additionally, they can answer questions regarding difficulty viewing, inability to find a specific event link, technical issues within a broadcast, trouble subscribing, billing questions, etc..
---
Bylaws Corner
Individual participants in any interscholastic athletic/activity sponsored and/or approved by the Association shall not accept cash or merchandise awards. Awards must be symbolic in nature with no functional or intrinsic value such as, but not limited to, letters, plaques, trophies, medals, ribbons, certificates, and letter adornments.
NMAA bylaw 6.18.8
Conference Hotel