The
NMAA
, a member-led organization, provides leadership in interscholastic athletics & activities, promoting equitable participation and character development.
Membership Dues/Fees Deadline
Membership dues/fees, as well as contracts, have been mailed to all schools. Please be sure to submit these to the NMAA by September 15, 2014. If you have not received either of these, or have any questions regarding membership contracts, please contact Alissa Wesbrook at 505-923-3266 or alissa@nmact,org. For questions regarding membership dues and fees, please contact Shari Kessler-Schwaner at 505-923-3279 or shari@nmact.org.
---
Student-Athlete Spotlight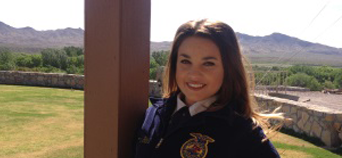 Forbes magazine lists 10 qualities that define a great leader. Those qualities are commitment, honesty, the ability to delegate, communication, a sense of humor, confidence, a positive attitude, intuition, the ability to inspire and creativity. Hot Springs High School senior Savannah Gillis embodies all of these... Read more...
---
MaxPreps Support
For all questions related to posting rosters, schedules, results, and team photos on your MaxPreps pages, contact Gerry Valerio (gerry.valerio@cbsinteractive.com) or MaxPreps support at 1-800-329-7324, ext. 1 (or via email at coachsupport@maxpreps.com).
"Compete with Class" is a New Mexico sportsmanship program designed to help better understand the true value of interscholastic athletics and activities, which is to educate and prepare our youth for the future. It was developed through a collaboration of athletic directors, coaches and school administrators as well as input from student and adult communities with the purpose of restoring the placement of interscholastic activities in an educational perspective and providing NM with a sportsmanship program that would be embraced and called our own.
The NMAA encourages all member schools to utilize "Compete with Class" materials in an effort to promote and establish a strong culture of sportsmanship based on the core values of respect, integrity, and responsibility.
Compete with Class materials are available here.
---
Regional AD's Meetings
NMAA Executive Director Sally Marquez will attend eight Cooperative Educational Services Regional Meetings this fall. The NMAA encourages all Athletic Directors to attend a session in their area. This will be an opportunity for Athletic Directors to have an open forum type session with the NMAA Executive Director on issues and topics of interest to them.
Meetings in September are as follows:
- September 4 - Wagon Mound
- September 9 - Pojoaque
- September 15 - Dora
- September 17 - Bernalillo
- September 25 - Aztec
Compete with Class

Conference Hotel