The
NMAA
, a member-led organization, provides leadership in interscholastic athletics & activities, promoting equitable participation and character development.
Score Board
HIGH SCHOOL ACTIVITIES MONTH
October is National High School Activities Month. It is a time to celebrate the contributions and benefits young people experience by participation in sports and activities. NMAA member high schools are encouraged to promote the values inherent in interscholastic athletics and activities.
Each week during October will have a different focus. October 24-31 is National Community Service/Youth Awareness Week. It is a time to promote giving back to our communities and youth sports involvement.
---
Student Spotlight presented by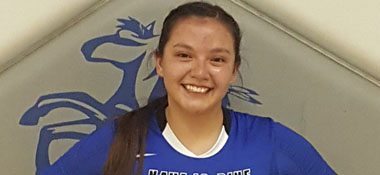 Koqua Louis, a senior at Navajo Pine High School takes great pride in her community. In fact, she hopes to one day come back to Navajo, N.M., following college and become a prominent figure in the small western border town. Read more...
Be sure to read about all of our featured students on the Student Spotlight page, presented by the Subway.
---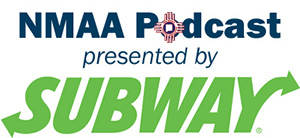 FALL CHAMPIONSHIPS
Brackets have been released for 6-Man Football and Soccer (Boys & Girls). Coming soon will be brackets for 8-Man/2A Football, State Cross Country, State Volleyball and 3A-6A Football Championships.
Be sure to stay current with all championship information by clicking on the appropriate link below:
Cross Country
Football
Soccer
Volleyball
---
AD's TIP of the week
Student recognition and Compete With Class Recognition: Consider reporting positive acts of sportsmanship by coaches, student-athletes, fans and officials to the NMAA for recognition. In addition make it a point to submit at least one outstanding student-athlete to Tyler Dunkel, NMAA Sports Information Director, per athletic season for feature article recognition.
---
MaxPreps Support
For all questions related to posting rosters, schedules, results, and team photos on your MaxPreps pages, contact Gerry Valerio (gerry.valerio@cbsinteractive.com) or MaxPreps support at 1-800-329-7324 FREE, ext. 1 (or via email at coachsupport@maxpreps.com).
---
NOMINATIONS FOR NMAA BOARD AND COMMISSION BEING ACCEPTED
Nominations are currently being accepted for positions on the NMAA Board of Directors and the NMAA Commission. Nomination forms, along with requirements and a listing of schools in each area, are available on the Board of Directors page and on the Commission page. Please contact Bill Cleland at bill@nmact.org with any questions about the nomination process or requirements for these positions. Nominations are due by 4 p.m. on Thursday, October 27th.
Conference Hotel