The
NMAA
, a member-led organization, provides leadership in interscholastic athletics & activities, promoting equitable participation and character development.
Mother Nature had her own ideas but Spring Sports Championships all came to an end Saturday, May 16th. The NMAA would like to thank all of the participants, fans, and workers who stuck it out through numerous delays and schedule changes.
Complete results are available on the baseball, softball and track/field state championship pages.
You can also see the results, and engage in the conversation, on the NMAA Facebook page.
---
Student-Athlete Spotlight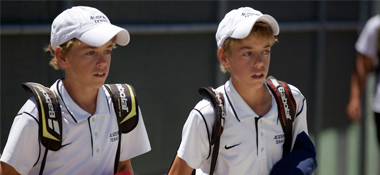 Quiet, reserved and shy are three words that describe Coleton and Hunter Hootman of Albuquerque Academy's tennis team. But, face them as a doubles team or in singles competition on the tennis court and you'll find out very quickly that these twin brothers are fierce and dominating competitors. Oh, did we mention the Hootman twins are just eighth graders? Read more...
Be sure to read about all of our featured students on the Student Spotlight page, presented by the New Mexico Oil & Gas Association

.
---

Student-Athlete Tip of the Week
Most student-athletes are on the go 365 days a year. There is little time off and plenty of pressure to perform at a high level. Do you ever reach a time of satisfaction? Do you enjoy or have fun with your participation? Does your sport consume you?
A key to being successful and having fun is to enjoy your small accomplishments along the way. Whether it's a good practice, improvement during a game or just gaining more confidence in your abilities, enjoy those times.
At the end of the day it's just a game; a sport you hopefully enjoy playing. Treat it that way!
---
NFHS Network Support
For all questions related to NFHS Network support, please contact help.nfhsnetwork.com or 877-978-2311. Customer representatives are standing by at all times to respond to issues and get fans set-up to view their events as quickly as possible. Additionally, they can answer questions regarding difficulty viewing, inability to find a specific event link, technical issues within a broadcast, trouble subscribing, billing questions, etc..
---
Bylaws Corner
Summer programs are under the direction of the local school/school district. The NMAA does not govern coaching activities during the summer, other than undue influence and guidelines established in 7.5.3. NMAA bylaw 7.5.1
Compete with Class

Conference Hotel