The
NMAA
, a member-led organization, provides leadership in interscholastic athletics & activities, promoting equitable participation and character development.
Score Board
NMAA STUDENT LEADERSHIP ADVISORY COUNCIL NOMINATIONS
The New Mexico Activities Association is filling vacancies for the 2017-2018 school year on its Student Leadership Advisory Council. The NMAA's SLAC gives high school students a hands-on experience with the Association and provides them a direct line of communication to the staff. Any NMAA member school administrator may nominate a current freshman, sophomore or junior male and female to be a member of the NMAA Student Leadership Advisory Council. Click here to nominate.
---
Student Spotlight presented by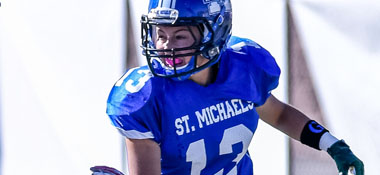 Jocelyn Fernandez does it all at St. Michael's High School, from soccer to basketball to softball to track and field. But, this fall, the Horseman senior gained notoriety for playing football. In a male-dominated sport, Fernandez wasn't just standing on the sidelines in full pads; she was a contributor, playing wide receiver and the team's backup field goal kicker. She said it was a memorable season, one she will never forget. Read more...
Be sure to read about all of our featured students on the Student Spotlight page, presented by Subway.
---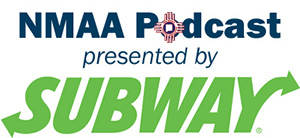 FOOTBALL STATE CHAMPIONSHIPS
State Champions have now been decided in all Football classifications. Congratulations to all of the 2016 participants and their supporters!
Complete results are available here: Football Championships
---
The NMAA Board of Directors is asking member schools who participate in the sport of softball to vote on three referenda items that were approved at the November 30th Board meeting. The referenda items are available by clicking here.
Please take the time to carefully review these items and to complete, sign, and return your ballots by 4:00 pm, Thursday, December 15, 2016.
---
CHAMPIONSHIPS ON NFHS NETWORK
All NMAA State Championship finals are broadcast on the NFHS Network. A complete listing of broadcast events/times is available by clicking here.
For all questions related to NFHS Network support, please contact help.nfhsnetwork.com or 877-978-2311. Customer representatives are standing by at all times to respond to issues and get fans set-up to view their events as quickly as possible. Additionally, they can answer questions regarding difficulty viewing, inability to find a specific event link, technical issues within a broadcast, trouble subscribing, billing questions, etc..
| | |
| --- | --- |
| | Dec 13 |
| | Hardship Petition Review |
| | |
| --- | --- |
| | Dec 15 |
| | Winter Sports Information Due Online |
Conference Hotel