The
NMAA
, a member-led organization, provides leadership in interscholastic athletics & activities, promoting equitable participation and character development.
STATE CONCERT BAND
The State Concert Band competition was held Friday and Saturday, April 24th and 25th at V. Sue Cleveland High School in Rio Rancho. Results of the 2015 contest are available here.
---
Student-Athlete Spotlight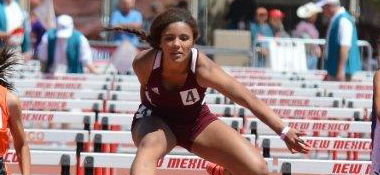 Taea Hill, a junior at Ramah High School, thrives on competition. During 2014 and 2015, Hill had great success both as an individual and as a member of Mustang athletic teams. Hill was the High-Point Athlete at the 2014 NMAA State Track & Field meet in class 2A, winning the triple jump, the 100-hurdles and the 300-hurdles, while running on two top-5 relay teams. Read more...
Be sure to read about all of our featured students on the Student Spotlight page, presented by the New Mexico Oil & Gas Association

.
Championships on NFHS Network
All NMAA State Championship finals are broadcast on the NFHS Network. A complete listing of broadcast events/times is available by clicking here.
---
NFHS Network Support
For all questions related to NFHS Network support, please contact help.nfhsnetwork.com or 877-978-2311. Customer representatives are standing by at all times to respond to issues and get fans set-up to view their events as quickly as possible. Additionally, they can answer questions regarding difficulty viewing, inability to find a specific event link, technical issues within a broadcast, trouble subscribing, billing questions, etc..
---
Bylaws Corner
Individual participants in any interscholastic athletic/activity sponsored and/or approved by the Association shall not accept cash or merchandise awards. Awards must be symbolic in nature with no functional or intrinsic value such as, but not limited to, letters, plaques, trophies, medals, ribbons, certificates, and letter adornments. NMAA bylaw 6.18.8
---

Compete with Class

Conference Hotel