The
NMAA
, a member-led organization, provides leadership in interscholastic athletics & activities, promoting equitable participation and character development.
Score Board
Spring Sports Championships
Championships will soon begin in all NMAA Spring Sports. Be sure to keep up with all of the action including updated brackets on our State Championship pages (links are listed below) and follow the conversation on the NMAA Facebook and Twitter pages.
Links to Spring State Championship pages -
Baseball
Golf
Softball
Tennis
Track & Field
---
Student Spotlight presented by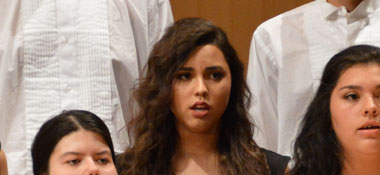 "Tesa Martinez, a senior at Capitan High School, sings because she loves it. She sings because it makes her feel good and hopes that one day she can bring that feeling to others as a music teacher. Martinez has been involved with the music program at Capitan since she was a seventh grader and the 2017 State Choir Contest was her twelfth and final competition of her high school career. She said that music has been a positive influence on her life. Read more...
Be sure to read about all of our featured students on the Student Spotlight page, presented by Subway.
11th Annual NMAA Foundation Golf Classic
The 11th Annual NMAA Foundation Golf Classic presented by Gardenswartz Team Sales is Monday, June 5th, 2017 at the Canyon Club at Four Hills in Albuquerque. Teams are $500 or $125 for an individual. Hole and team sponsors are still available. Entry fee includes green fees and cart, range balls and lunch, player gifts, raffle/silent auction and prizes for both the a.m. and p.m. flights. For more information click here or contact Carolyn Folkman at nmaafoundation@gmail.com.
---
AD's Tip of the Week
NMAA Sports Specific Committees. Every NMAA sport is supported by a committee that is selected by the NM High School Coaches, AD's and Officials Association. These committees meet to consider potential rules changes in each sport and recommend changes to the Executive Director and NMAA Commission. A committee listing is located on each NMAA Athletic Page on the NMAA web site. If you would like to have a rule change considered please contact your classification representative on the sports specific committee
---
CHAMPIONSHIPS ON NFHS NETWORK
All NMAA State Championship finals are broadcast on the NFHS Network. A complete listing of broadcast events/times is available by clicking here.
For all questions related to NFHS Network support, please contact help.nfhsnetwork.com or 877-978-2311. Customer representatives are standing by at all times to respond to issues and get fans set-up to view their events as quickly as possible. Additionally, they can answer questions regarding difficulty viewing, inability to find a specific event link, technical issues within a broadcast, trouble subscribing, billing questions, etc..
Conference Hotel