The
NMAA
, a member-led organization, provides leadership in interscholastic athletics & activities, promoting equitable participation and character development.
High School Activities Month
October is National High School Activities Month. It is a time to celebrate the contributions and benefits young people experience by participation in sports and activities. NMAA member high schools are encouraged to promote the values inherent in interscholastic athletics and activities.
Each week during October will have a different focus. October 20-25 is National Coaches/Sponsors/Advisors/Officials Week. It is a time to recognize all of the adults who work tirelessly on behalf of the students who participate in interscholastic programs.
---
Student-Athlete Spotlight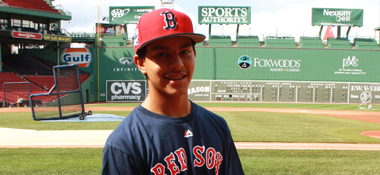 Deming High School freshman Shane Mora has inspired many people, including his fellow students, teachers, coaches and his community over the last year. Why? Mora, 15, has looked one of the world's deadliest diseases, cancer, in the face and won. Read more...
Be sure to read about all of our featured students on the Student Spotlight page.
For all questions related to NFHS Network support, please contact help.nfhsnetwork.com or 877-978-2311. Customer representatives are standing by at all times to respond to issues and get fans set-up to view their events as quickly as possible. Additionally, they can answer questions regarding difficulty viewing, inability to find a specific event link, technical issues within a broadcast, trouble subscribing, billing questions, etc..
---
MaxPreps Support
For all questions related to posting rosters, schedules, results, and team photos on your MaxPreps pages, contact Gerry Valerio (gerry.valerio@cbsinteractive.com) or MaxPreps support at 1-800-329-7324, ext. 1 (or via email at coachsupport@maxpreps.com).
---
Per NMAA bylaw 3.9.3, team photos must be posted to your MaxPreps team pages no later than three weeks prior to your sport State Championship. For cross country and soccer, that date is Wednesday, October 15th. For volleyball it is Monday, October 20th. Please refer to the MaxPreps support information (posted above) if you have any questions about uploading team photos.
| | |
| --- | --- |
| | Oct 24 |
| | Swim/Dive Qualifying Meet Application Deadline |



Compete with Class

Conference Hotel