The
NMAA
, a member-led organization, provides leadership in interscholastic athletics & activities, promoting equitable participation and character development.
Score Board
2017 STATE SPIRIT CHAMPIONSHIP
The 2017 NMAA State Spirit Competition, presented by Varsity Spirit takes place the weekend of March 24-25 at the University of New Mexico's WisePies Arena aka the Pit. Click here for this year's competition schedule.
---
Student Spotlight presented by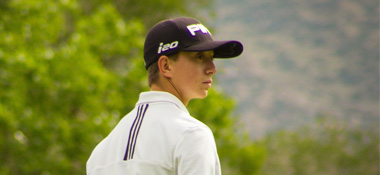 Next on the No. 1 tee, from Volcano Vista High School, senior Ben Wells…. In his final year as a member of the Hawks golf team, Wells looks to make a push to go out on top as a state champion. But, his journey wasn't the prototypical golfer's climb to the top. In fact, baseball was his first passion. Read more...
Be sure to read about all of our featured students on the Student Spotlight page, presented by Subway.
STATE MUSIC EVENTS
April is the month for all NMAA State Music Competitions, beginning with Orchestra on Friday and Saturday, March 31-April 1 (Volcano Vista HS). The State Choir competition will be held Friday and Saturday, April 7-8 (Cleveland HS) and State Music events will conclude with Concert Band Friday and Saturday, April 21-22 (Cleveland HS). Please come out and support all of our talented music students!
---
Bylaws Corner
Eighth-grade
participation at the high school level is permitted with the approval of the local school board but once the election is made to participate on a high school team, that is the Student's open enrollment choice. A change of school attendance after this open enrollment choice will be governed by the transfer rules outlined in Section VI. NMAA bylaw 9.3
---
CHAMPIONSHIPS ON NFHS NETWORK
All NMAA State Championship finals are broadcast on the NFHS Network. A complete listing of broadcast events/times is available by clicking here.
For all questions related to NFHS Network support, please contact help.nfhsnetwork.com or 877-978-2311. Customer representatives are standing by at all times to respond to issues and get fans set-up to view their events as quickly as possible. Additionally, they can answer questions regarding difficulty viewing, inability to find a specific event link, technical issues within a broadcast, trouble subscribing, billing questions, etc..
Conference Hotel