The
NMAA
, a member-led organization, provides leadership in interscholastic athletics & activities, promoting equitable participation and character development.
ONLINE RULES CLINICS
Due to the severe weather and the number of school closings, online rules clinics for Spring sports will remain available through Wednesday, March 4th. Schools are reminded that the head coach of each Spring sport team must attend a rules clinic.
---
Student-Athlete Spotlight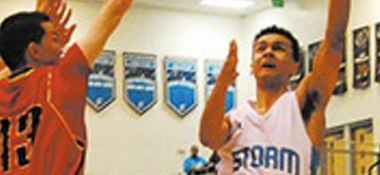 Usually the process of counting calories is for the purpose of losing weight. Today, we present the case for Ryan Jones, who also meticulously counts calories - in order to GAIN weight. Read more...
Be sure to read about all of our featured students on the Student Spotlight page, presented by the New Mexico Oil & Gas Association

.
---
Bylaws Corner
Eighth grade participation at the high school level is permitted with the approval of the local school board but once the election is made to participate on a high school team, that is the Student's open enrollment choice. A change of school attendance after this open enrollment choice will be governed by the transfer rules outlined in Section VI. NMAA bylaw 9.3
Basketball Selection / Seeding
U.S. Bank State Basketball championship action kicks-off this weekend, March 6th and 7th, at high schools around the state. To see where your favorite team is playing, click on the appropriate bracket link below and then select the appropriate classification:
2015 Boys State Basketball Brackets (powered by MaxPreps)
2015 Girls State Basketball Brackets (powered by MaxPreps)
---
Championships on NFHS Network
All NMAA State Championship finals are broadcast on the NFHS Network. A complete listing of broadcast events/times is available by clicking here.
---
For all questions related to NFHS Network support, please contact help.nfhsnetwork.com or 877-978-2311. Customer representatives are standing by at all times to respond to issues and get fans set-up to view their events as quickly as possible. Additionally, they can answer questions regarding difficulty viewing, inability to find a specific event link, technical issues within a broadcast, trouble subscribing, billing questions, etc..
---




Compete with Class

Conference Hotel