The
NMAA
, a member-led organization, provides leadership in interscholastic athletics & activities, promoting equitable participation and character development.
HIGH SCHOOL ACTIVITIES MONTH
October is National High School Activities Month. It is a time to celebrate the contributions and benefits young people experience by participation in sports and activities. NMAA member high schools are encouraged to promote the values inherent in interscholastic athletics and activities.
Each week during October will have a different focus. October 1-10 is National Sportsmanship, Fan Appreciation and Public-Address Announcers Week. It is a time to recognize all of the adults who work tirelessly on behalf of the students who participate in interscholastic programs.
---
Student-Athlete Spotlight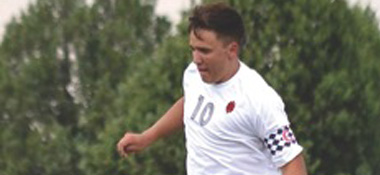 Whether he's on the football field or the soccer pitch, Hans Von Bertrab Madero is getting a kick out of his senior year at the New Mexico Military Institute. Read more...
Be sure to read about all of our featured students on the Student Spotlight page.
---
MaxPreps Support
For all questions related to posting rosters, schedules, results, and team photos on your MaxPreps pages, contact Gerry Valerio (gerry.valerio@cbsinteractive.com) or MaxPreps support at 1-800-329-7324 FREE, ext. 1 (or via email at coachsupport@maxpreps.com).
Student-Athlete Tip of the Week
What traits do you possess that sets you apart from the other athletes in your sport? Do you give much thought about the little things that could make a big difference in your performance and playing time?
Too many times young athletes get caught up in the physical portion of their sport, forgetting about the importance a good mental approach as well. Setting yourself apart from others mentally might be the key for more success and more playing time.
So concentrate on playing smarter by limiting your turnovers (regardless of your sport), and do away with foolish mistakes and mental errors. While no one is perfect, making fewer mistakes because of your mental toughness will give your coach the confidence to count on you when the going gets tough!
---
Current NMAA Referenda
The NMAA Board of Directors is asking member schools to vote on several referenda items that were approved at the September 23rd Board meeting. The referenda items are available by clicking here.
Please take the time to carefully review these items and to complete, sign, and return the referenda by 4:00 pm, Friday, October 9, 2015. Please be sure that your Official Voter has already been identified in MaxPreps. Contact Bill Cleland if you have any questions about the Official Voter designation.
---
Bylaws Corner
As per 2010 New Mexico State Legislation, a coach shall not allow a student athlete to participate in a school athletic activity on the same day that the student athlete exhibits signs, symptoms or behaviors consistent with a brain injury or has been diagnosed with a brain injury. The student athlete may not return to athletic participation for a minimum of one week (7 days) after he/she received a brain injury. Only when the student athlete no longer exhibits any sign, symptom or behavior consistent with a brain injury and has received medical clearance from a licensed health care professional may he/she return to athletic participation.
NMAA bylaw 7.6.20.
| | |
| --- | --- |
| | Oct 23 |
| | Deadline for Swim/Dive Qualifying Meet applications |



Compete with Class

Conference Hotel