The
NMAA
, a member-led organization, provides leadership in interscholastic athletics & activities, promoting equitable participation and character development.
State music events
April is the month for all NMAA State Music Competitions. Orchestra took place Saturday, April 11 and the results are posted here. The State Choir competition will be held Friday and Saturday, April 17-18 and State Music events will end with Concert Band Friday and Saturday, April 24-25. Please come out and support all of our talented music students!
---
Student-Athlete Spotlight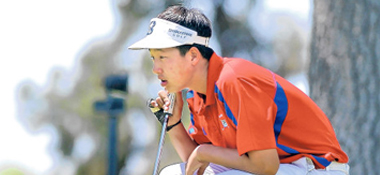 Davis Chung, a senior at Las Cruces High School has the opportunity to become a three-time individual state champion when he tees up his golf ball on May 11-12 at Pinon Hills Golf Course in Farmington for the 6A Furr's Buffets State Golf Championships, presented by Farmers Insurance Group. "It would be nice to win the individual title again but I would take a team title over that. It would mean a lot because it would show that I stuck with it and my dedication paid off," said Chung. Read more...
Be sure to read about all of our featured students on the Student Spotlight page, presented by the New Mexico Oil & Gas Association

.
Championships on NFHS Network
All NMAA State Championship finals are broadcast on the NFHS Network. A complete listing of broadcast events/times is available by clicking here.
---
NFHS Network Support
For all questions related to NFHS Network support, please contact help.nfhsnetwork.com or 877-978-2311. Customer representatives are standing by at all times to respond to issues and get fans set-up to view their events as quickly as possible. Additionally, they can answer questions regarding difficulty viewing, inability to find a specific event link, technical issues within a broadcast, trouble subscribing, billing questions, etc..
---
Bylaws Corner
Individual participants in any interscholastic athletic/activity sponsored and/or approved by the Association shall not accept cash or merchandise awards. Awards must be symbolic in nature with no functional or intrinsic value such as, but not limited to, letters, plaques, trophies, medals, ribbons, certificates, and letter adornments. NMAA bylaw 6.18.8
---

Compete with Class

Conference Hotel