The
NMAA
, a member-led organization, provides leadership in interscholastic athletics & activities, promoting equitable participation and character development.
Basketball State Championship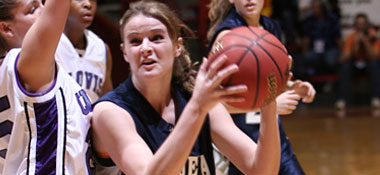 Title Sponsor
U.S. Bank





Presenting Sponsor
Farmers Insurance Group




---
SCHEDULE:
First Round Girls (A-5A) Friday, March 8, 2013
First Round Boys (A-5A) Saturday, March 9, 2013
State Championships (B-5A) March 12-16, 2013 - Updated
BRACKETS:
Boys State Championship Brackets
Girls State Championship Brackets
TICKET INFORMATION:
First Round $5.00
Bernalillo HS (Class B/A Quarterfinals/Semifinals)
$5.00 Students/Seniors
$8.00 Adults
Santa Ana Star Center
$5.00 Students/Seniors
$10.00 Adults
The Pit - Tickets on sale at UNM Tickets.com
$5.00 Students/Seniors (General Admission)
$10.00 Adults (General Admission)
$15.00 Reserved Chairback
IMPORTANT NOTE: UNM will be charging $5.00 for parking for all vehicles with fewer than 4 people.
FACILITIES:
Bernalillo High School
Santa Ana Star Center- MAP
The Pit
---
LOCATIONS:
First Round- Home Sites
Quarterfinals, Semifinals, Finals- Albuquerque, Rio Rancho and Bernalilllo HS
---
LIVE VIDEO:
ProView Networks will stream all games (March 12-16) LIVE at www.nmaafilms.tv.
T-SHIRTS AND APPAREL:
Graphic Connection is the exculsive vendor of all NMAA State Championship Apparel.
Access the Graphic Connection website.
PHOTOS:
Kim Jew Photography will be covering all games (March 12-16).
Access Kim Jew Photography.
---
All championship finals will be played in The Pit (pictured below).
Read about The Pit- courtesy of www.golobos.com